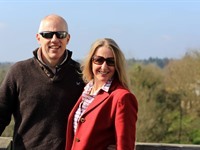 We have embraced a change in lifestyle, culture and weather(!) relocating to Chateau Le Retail in August 2016 from north east Scotland where we both worked within the Oil and Gas Industry. Doug continues to travel to work and Pauline now focuses on hosting our new business venture.
South Vendée, Pays de la Loire, is an extremely active tourist area. Chateau Le Retail is the ideal base for your vacation in with easy access to many key tourist attractions including; world renowned theme parks (Puy du Fou, Futuoroscope), the 'Green Venice' Marais Poitevin, the spectacular Atlantic coast with its beautiful beaches and maritime activities, all within an hour away. Of course there is also the amazing Loire valley - famous for its incredible wine and breathtaking chateaux's and gardens.
The historic and beautiful towns of La Rochelle, Vouvant and Fontenay Le Comte are all easily accessible, with many local markets and historic sites to visits throughout the area.
Mervent forest is only 12km away with cycling and walking tracks in abundance along with water activities, climbing, archery, horse-riding, a great local zoo and an activity park for children.
Chateau Le Retail is 3.5km from a little village whilst the main shops and closest large town are 5km and 15km away. You've the option of Nantes, Poitiers (1h15min) or La Rochelle (1 hour) airports, the TGV train from Paris to Poitiers (approx. 3 hours) or the St Malo ferry (3h). The roads (both toll and rural) are all very quiet and easy to drive on.
Should you have any questions please get in touch.